Forthcoming Line-up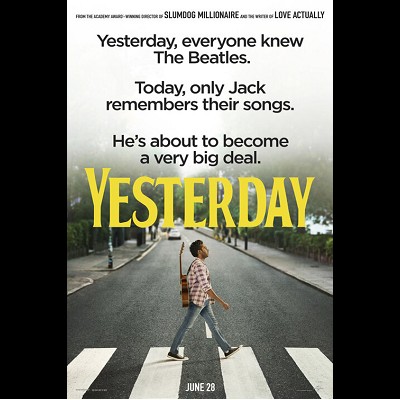 Forthcoming Line-up
August 9th
Playmobil: The Movie
When her younger brother disappears into the colourful and animated world of Playmobil, Marla is forced to abandon her organised and structured life to rescue him. Finding herself on an incredible and unpredictable adventure within this new world, Marla begins to see potential she never dreamed of.
https://www.youtube.com/watch?v=xgyP9GG9Ecw
The Art of Racing in the Rain
Denny Swift is a Formula One race car driver who understands that the techniques needed on the racetrack can also be used to successfully navigate everyday life. Besides his career, Denny has three loves of his life -- his beautiful wife, their young daughter and his best friend, which is a dog that wants to be reincarnated into a human.
August 16th
UglyDolls
In the adorably different town of Uglyville, weird is celebrated, strange is special and beauty is embraced as more than simply meets the eye. Here, the free-spirited Moxy (Clarkson) and her UglyDoll friends live every day in a whirlwind of bliss, letting their freak flags fly in a celebration of life and its endless possibilities. In this all-new story, the UglyDolls will go on a journey beyond the comfortable borders of Uglyville. There, they will confront what it means to be different, struggle with their desire to be loved, and ultimately discover that you don't have to be perfect to be amazing because who you truly are is what matters most.
https://www.youtube.com/watch?v=tsZEkdd0bFI
Once Upon A Time In Hollywood
Quentin Tarantino's ninth feature film is a story that takes place in Los Angeles in 1969, at the height of hippy Hollywood. The two lead characters are Rick Dalton (Leonardo DiCaprio), former star of a western TV series, and his longtime stunt double Cliff Booth (Brad Pitt). Both are struggling to make it in a Hollywood they don't recognize anymore. But Rick has a very famous next-door neighbour...Sharon Tate.
https://www.youtube.com/watch?v=P3DmN7F1H-s
Dora and the Lost City of Gold
Having spent most of her life exploring the jungle with her parents, nothing could prepare Dora (Isabela Moner) for her most dangerous adventure ever -- High School. Always the explorer, Dora quickly finds herself leading Boots (her best friend, a monkey), Diego (Jeffrey Wahlberg), a mysterious jungle inhabitant (Eugenio Derbez), and a rag tag group of teens on a live-action adventure to save her parents (Eva Longoria, Michael Peña) and solve the impossible mystery behind a lost city of gold.
https://www.youtube.com/watch?v=p-j9g0PIRjQ
Good Boys
After being invited to his first kissing party, 12-year-old Max (Room's Jacob Tremblay) is panicking because he doesn't know how to kiss. Eager for some pointers, Max and his best friends Thor (Brady Noon, HBO's Boardwalk Empire) and Lucas (Keith L. Williams, Fox's The Last Man On Earth) decide to use Max's dad's drone -- which Max is forbidden to touch -- to spy (they think) on a teenage couple making out next door. But when things go ridiculously wrong, the drone is destroyed. Desperate to replace it before Max's dad (Will Forte, The Last Man on Earth) gets home, the boys skip school and set off on an odyssey of epically bad decisions involving some accidentally stolen drugs, frat-house paintball, and running from both the cops and terrifying teenage girls (Life of the Party's Molly Gordon and Ocean's Eight's Midori Francis).
https://www.youtube.com/watch?v=NuI7f6mJUfE
August 23rd
Angel Has Fallen
When there is an assassination attempt on U.S. President Allan Trumbull (Morgan Freeman), his trusted confidant, Secret Service Agent Mike Banning (Gerard Butler), is wrongfully accused and taken into custody. After escaping from capture, he becomes a man on the run and must evade his own agency and outsmart the FBI in order to find the real threat to the President. Desperate to uncover the truth, Banning turns to unlikely allies to help clear his name, keep his family from harm and save the country from imminent danger.
https://www.youtube.com/watch?v=e3kXGvK92Ms
Sept 6th
IT: Chapter Two
Because every 27 years evil revisits the town of Derry, Maine, "IT CHAPTER TWO" brings the characters -- who've long since gone their separate ways -- back together as adults, nearly three decades after the events of the first film.
https://www.youtube.com/watch?v=HCLT_iQQ_38
Sept 13th
Downton Abbey
The worldwide phenomenon DOWNTON ABBEY, becomes a grand motion picture event, as the beloved Crawleys and their intrepid staff prepare for the most important moment of their lives. A royal visit from the King and Queen of England will unleash scandal, romance and intrigue that will leave the future of Downton hanging in the balance.
https://www.youtube.com/watch?v=fMkiSqBraD0
Share This Page
Have Your Say