Forthcoming Line-up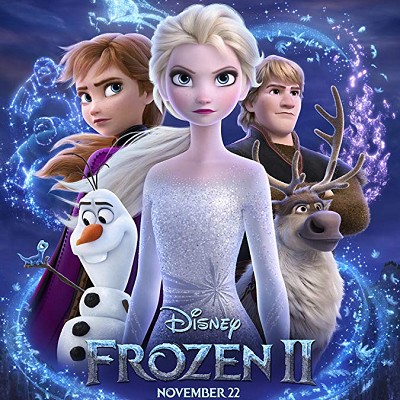 Forthcoming Line-up
November 22nd
Frozen 2
Why was Elsa born with magical powers? The answer is calling her and threatening her kingdom. Together with Anna, Kristoff, Olaf and Sven, she'll set out on a dangerous but remarkable journey. In "Frozen," Elsa feared her powers were too much for the world. In "Frozen 2," she must hope they are enough.
Frozen 2 reunites the cast and creative team from the Oscar-winning 2013 film Frozen - the highest grossing animated film of all time - including actors Kristen Bell, Idina Menzel, Jonathan Groff and Josh Gad, who reprise their roles, as well as directors Chris Buck and Jennifer Lee.
November 29th
Knives Out
Acclaimed writer and director Rian Johnson (Brick, Looper, Star Wars: The Last Jedi) pays tribute to mystery mastermind Agatha Christie in KNIVES OUT, a fun, modern-day murder mystery where everyone is a suspect. When renowned crime novelist Harlan Thrombey (Christopher Plummer) is found dead at his estate just after his 85th birthday, the inquisitive and debonair Detective Benoit Blanc (Daniel Craig) is mysteriously enlisted to investigate. From Harlan's dysfunctional family to his devoted staff, Blanc sifts through a web of red herrings and self-serving lies to uncover the truth behind Harlan's untimely death. With an all-star ensemble cast including Chris Evans, Ana de Armas, Jamie Lee Curtis, Toni Collette, Don Johnson, Michael Shannon, LaKeith Stanfield, Katherine Langford and Jaeden Martell, KNIVES OUT is a witty and stylish whodunit guaranteed to keep audiences guessing until the very end.
Charlie's Angels
Director Elizabeth Banks takes the helm as the next generation of fearless Charlie's Angels take flight. In Banks' bold vision, Kristen Stewart, Naomi Scott, and Ella Balinska are working for the mysterious Charles Townsend, whose security and investigative agency has expanded internationally. With the world's smartest, bravest, and most highly trained women all over the globe, there are now teams of Angels guided by multiple Bosleys taking on the toughest jobs everywhere. The screenplay is by Elizabeth Banks from a story by Evan Spiliotopoulos and David Auburn.
December 6th
StarDog and TurboCat
A lost dog and a genius cat must team up to embark on a voyage in space to find their way home. The pair must also be cautious of a pet ban which has been enforced by an angry police officer.
December 13th
Jumanji: The Next Level (this title previews on the 6/7/11/12th December)
In Jumanji: The Next Level, the gang is back but the game has changed. As they return to Jumanji to rescue one of their own, they discover that nothing is as they expect. The players will have to brave parts unknown and unexplored, from the arid deserts to the snowy mountains, in order to escape the world's most dangerous game.
December 19th
Star Wars: The Rise of Skywalker
The surviving Resistance faces the First Order once more as Rey, Finn and Poe Dameron's journey continues. With the power and knowledge of generations behind them, the final battle commences.
Share This Page
Have Your Say