Forthcoming Line-up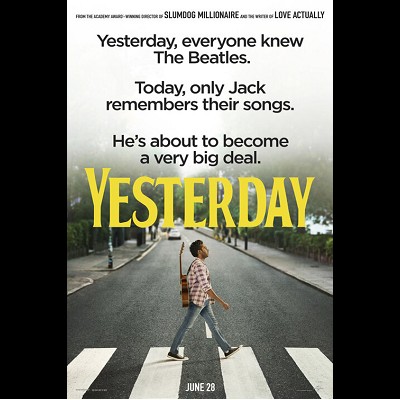 Forthcoming Line-up
28th June
Yesterday
Jack Malik (Himesh Patel, BBC's Eastenders) is a struggling singer-songwriter in a tiny English seaside town whose dreams of fame are rapidly fading, despite the fierce devotion and support of his childhood best friend, Ellie (Lily James, Mamma Mia! Here We Go Again). Then, after a freak bus accident during a mysterious global blackout, Jack wakes up to discover that The Beatles have never existed... and he finds himself with a very complicated problem, indeed
2nd July
Spider-man: Far From Home
Peter Parker returns in Spider-Man: Far From Home, the next chapter of the Spider-Man: Homecoming series! Our friendly neighbourhood Super Hero decides to join his best friends Ned, MJ, and the rest of the gang on a European vacation. However, Peter's plan to leave super heroics behind for a few weeks are quickly scrapped when he begrudgingly agrees to help Nick Fury uncover the mystery of several elemental creature attacks, creating havoc across the continent!
July 5th
The Queen's Corgi
Rex is the Queen's Top Dog - a spoilt little Corgi who lives a life of luxury in Buckingham Palace. But when Rex winds up in a London Dog's Home, surrounded by tough strays, he must learn that to become a true Top Dog, you have to earn it!
July 12th
Annabelle Comes Home
Determined to keep Annabelle from wreaking more havoc, demonologists Ed and Lorraine Warren bring the possessed doll to the locked artifacts room in their home, placing her "safely" behind sacred glass and enlisting a priest's holy blessing. But an unholy night of horror awaits as Annabelle awakens the evil spirits in the room, who all set their sights on a new target -- the Warrens' ten-year-old daughter, Judy, and her friends
Stuber
When a mild-mannered Uber driver named Stu (Kumail Nanjiani) picks up a passenger (Dave Bautista) who turns out to be a cop hot on the trail of a brutal killer, he's thrust into a harrowing ordeal where he desperately tries to hold onto his wits, his life and his five-star rating.
July 19th
The Lion King
From Disney Live Action, director Jon Favreau's all-new "The Lion King" journeys to the African savanna where a future king is born. Simba idolizes his father, King Mufasa, and takes to heart his own royal destiny. But not everyone in the kingdom celebrates the new cub's arrival. Scar, Mufasa's brother-and former heir to the throne-has plans of his own. The battle for Pride Rock is ravaged with betrayal, tragedy and drama, ultimately resulting in Simba's exile. With help from a curious pair of newfound friends, Simba will have to figure out how to grow up and take back what is rightfully his.
August 1st
Fast & Furious: Hobbs & Shaw
Ever since hulking lawman Hobbs (Dwayne Johnson), a loyal agent of America's Diplomatic Security Service, and lawless outcast Shaw (Jason Statham), a former British military elite operative, first faced off in 2015's Furious 7, the duo have swapped smack talk and body blows as they've tried to take each other down. But when cyber-genetically enhanced anarchist Brixton (Idris Elba) gains control of an insidious bio-threat that could alter humanity forever--and bests a brilliant and fearless rogue MI6 agent (The Crown's Vanessa Kirby), who just happens to be Shaw's sister--these two sworn enemies will have to partner up to bring down the only guy who might be badder than themselves.
Share This Page
Have Your Say